Notes from
Kathy's

Desk

Guidance, Ruminations, Thoughts, Miscellaneous Points and Suggestions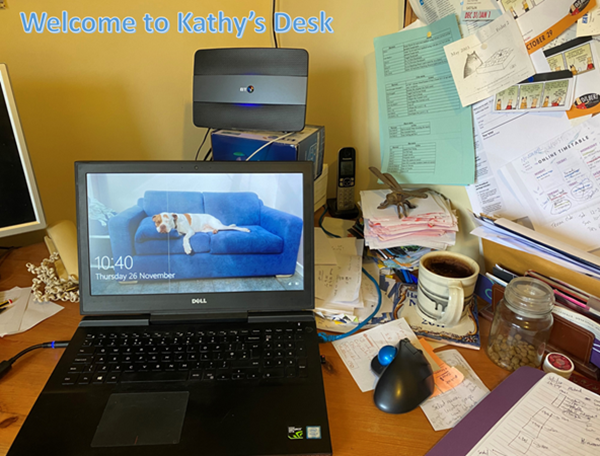 Welcome. This is a space for us to share with you some of the interesting questions that come across our desks. There are general articles about optimization -- Linear Programming, MIP, SLP, recursion -- as well as specific tips and best practice suggestions for GRTMPS. I hope there will be something here that will help you make a success of your Successive Linear Programming models and, occassionally at least, to have a bit of number fun.
29th March 2021 I am currently basking in the pleasure of having a new, and noticeably faster, laptop. Ordered in January with a 4 month delivery window, it's been something to look forward to all through lockdown and tt came 3 weeks early – which I suspect they do on purpose for the feel good factor. I'm now the proud possessor of 6 cores-double threaded, solid state hard-drive and loads of memory. I'm still setting up, but looking forward to churning through some multi-starts 10 cases at a time. Apparently, though, for some of the distribution and resource allocation problems, an aquarium would be the hardware of choice, with some rather squishy "firmware". Check out NatureBang - Slime Mould and Problem Solving - on BBC Sounds for a very alternative approach to planning models (Thanks Martin.)
This week's note, however, tackles a classic problem using well established techniques. What to do if not all crudes run on all modes.
Kathy
New entries will appear monthly or thereabouts. Index to Previous Notes by Topic
Use the feedback form to ask to subscribe to the mailing list if you want to be notified when a note has been posted.
Comments, suggestions gratefully received via the usual e-mail addresses or here.
---
In GRTMPS you can define "generic" operations on distillation units that automatically expand for whichever set of crudes is available in the case. This is more convenient than having to write out operating modes for every crude. But if you have multiple towers or modes and some crudes that cannot be processed in all of them, you need to exclude those feeds from the expansion.
Planning models are usually run so that the optimization maximizes profit margin with no limits set on what can be spent to achieve it. But what if credit is tight? The global economy and political landscape have had quite a few upsets so far this century. For some companies that has certainly meant operating with limited access to finance. Feedstock evaluation changes from being an assessment of how valuable each option is to a question of what is the best combination that can be obtained for the money available.
| | |
| --- | --- |
| | Crude oil evaluation is one of the most common optimization applications in the oil industry. The predicted profit margin/bbl for each grade relative to the others gives a "pecking order" of preferred feedstocks for a refinery. Even a difference of a few cents per barrel translates to a large sum of money, so it is very worrying when a crude that looked good drops from the top to the bottom of the list from one assessment to the next. Does it mean that the original evaluation was wrong? |
Help! My data is in rows, but I need columns. How can I get from:
| | | | |
| --- | --- | --- | --- |
| | to | | ? |
How does a planning model decide how much process unit capacity to use?

Case generator is a flexible tool for setting up loads of cases to go at the press of a button – and a 181 file of initial estimates can be very helpful in improving recursion behaviour. So how, asks a client, can I use one with the other?

Spreadsheet or Database? Let's be honest about our preferences. Given a pile of data to work with your first click wiill be the one that opens Excel. Databases are great for validation but they are lousy at maths so we in the GRTMPS team try to offer you the best of both – so you can use the input database to protect yourself from time wasting over undefined codes, but use a spreadsheet to manipulate data. The tool for passing data in and out of the model database via Excel is called SSI – for SpreadSheet Import.
There should be mass balance across a refinery – every molecule of feed stock that comes in comes back out again (eventually) – and we hope, mostly as useful products. But the reality is that when inputs and outputs are compared there will be some discrepancy. How should this be handled in our planning models?