Pulling together my thoughts and notes following our recent user conference in Seville (postponed from 2020), it struck me that the focus of the talks, and therefore, of the refining industry, has shifted. It definitely seemed a bit less about how to do better at what we usually do, and rather more about change and adaptation to make the future work. There were four papers on de-carbonization, one on green hydrogen and two on alternative non-fossil feed stocks!
Haverly has been holding user conferences for more than 50 years. There is a digital archive of the papers (accessible to our clients through their tech support login) going back to 1999.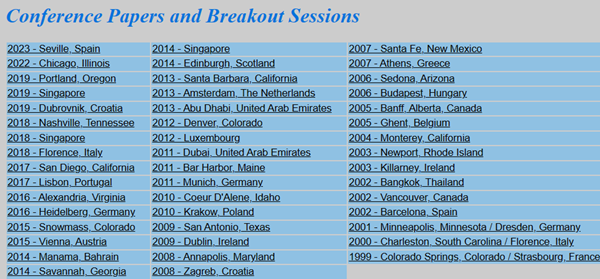 This gives me plenty of data to check my feelings about industry trends. I went through the agenda of the all the US and European meetings as these are the ones that have external and client speakers– and classified the papers by topic (while running the GRTMPS test sets on my other machine, of course). Not surprisingly, there have been a lot of presentations about developments in the Haverly software products – GRTMPS, H/CAMS, H/COMET, H/SCHED. It was quite a walk down memory lane, noting the first appearance of features like the database input for GRTMPS, Cut Point Optimization and Report Generator. Many of the talks are also very technical, concerning optimization techniques or developments in computing (Y2K preparedness!) or laboratory methods (e.g., NIR). All very interesting, but they are about the techniques, more than the business issues that require their application.
I was more interested in the about a third of the papers that addressed what is it that people are trying to do and why – rather than how. I classified those as either "Business as Usual" or "Facing the Future". It's B.A.U. if the paper takes it for granted that the refinery industry is all about boiling oil as profitably as possible – mostly to make gasoline and diesel fuels. These are the presentations on crude selection, fouling, tuning an FCC, etc. that wouldn't have been a surprise if the conference had been held in the 1980s when I started my career at BP – or even earlier - see:.
| | |
| --- | --- |
| B.A.U. Papers 1999 | B.A.U. Papers 2019 |
| | |
Future looking papers, on the other hand, are those that talk about the need for the industry to adapt – to reduce pollution, including green-house gas emissions, to de-carbonize and become more sustainable, and less reliant on fossil fuels.
And I was right – if we look at the percentages of B.A.U. and F.F. papers, the last 2 years of conferences have the most.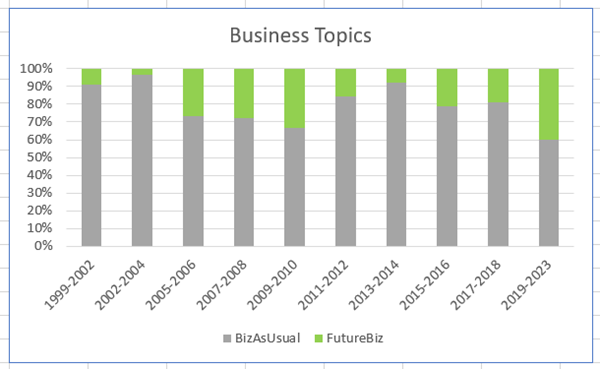 What is it that we have been talking about when we are looking forward?
I counted papers on changes to product specifications as Future Facing. Regulators world-wide have been legislating for decades to mitigate pollution from fuel combustion - such as banning lead and reducing benzene and sulphur content. Much of this activity in the developed economies happened before the turn of the century (and so before my data starts.)
However, there was still enough on-going to stimulate a paper on "Using GRTMPS to Evaluate RFG Projects" in 2000 and one on "Opportunities Associated with ULSD" in 2004.
Specification changes returned to the agenda in 2012 with CONCAWE presenting a study on proposed changes to IMO Bunker Fuels.This coming into effect stimulated a couple more papers in 2019 and 2020.
Although I classified these papers as Future Facing, I concede that there is an argument for putting them in B.A.U. – yes, some investment in new units was required, and there was some impact on feed stock selection, but refining didn't change fundamentally as result. However, I think they also are arguably early steps in the journey to reduce harmful emissions.
| | |
| --- | --- |
| Along with the changes in specifications, we start to see the incorporation of non-fossil fuel materials into products– ethanol into gasoline and bio-diesel. 2005 saw the passage of significant new legislation in the US driving a push to renewables. | |
| | Europe was a bit behind, with CONCAWE's report on Ethanol in the Gasoline Pool not coming out until 2011 It was more of an open topic in Europe at that point, as unlike the US where 10% ethanol was the norm, there was some considerable discussion about where the levels would be set and differences even within the EU about how and when to implement the relevant directives. (Ethanol is a difficult component to model as its properties are context dependent - but I will concede that it was easier to add than the non-linear TOX formulae of RFG). |
| | |
| --- | --- |
| These eventually were expressed in energy tracking requirements that had a significant impact on refinery economics and wholesale product markets, as we see in this paper from Galp in 2017. | |
.
Now we're are moving further away from the traditional business, having to handle materials that, while (ideally) can be dropped in to existing products and processes, are not sourced from the "usual" raw materials. More clearly Future Facing.
| | |
| --- | --- |
| | And then there is CO2 and de-carbonization - an urgent challenge for every field of business. The first paper at one of our conferences to talk about CO2 emissions goes right back to 2000. Simon Clarke from Foster Wheeler UK described an investment study for a client who was anticipating the establishment of a European carbon market and emissions caps in response to the Kyoto Agreement. The study focused on how to identify the sources of emissions at the refinery, and reduce them – with minimal capital cost, of course. |
CO2 re-appears on the agenda in 2006, with the first of what would become a series of papers from Total's modelling group, who have done a great deal of work over the years on how to use LP models to allocate CO2 emissions to products and processes. There have also been contributions on this topic from CONCAWE and Solomon Associates.
| | | |
| --- | --- | --- |
| | | |
| 2006 | 2006 | 2009 |
| | | |
| 2010 | 2011 | 2015 |
| | |
| --- | --- |
| | The only presentation to actually have "greenhouse" in its title (although somewhat shyly) was given in 2015 by Vince DiVita, (now with 1898 & Co - a regular client contributor, whose consultancy work gives him a good insight into industry trends). From here on, all of the papers on energy trends are mentioning renewables and greenhouse gas reduction targets.- it's become "Future As Usual", perhaps. |
This brings us up to the most recent conferences – the ones postponed by the COVID-19 pandemic – and here is where we really had a change to novel topics.
"The End of Refining as We Know it" - might be difficult to pin to any particular change or point in time (a bit like Peak oil - which appears to actually be a non-monotonic function), but we are certainly working on a lot of problems - and solutions - that would surprise our retired colleagues.
It can be somewhat challenging to explain to people how one can grasp the implications of climate change and the world's dwindling carbon budget, but still work in the oil industry. I talk about all the many non-combustion products that refineries make and the impracticality of simply turning it all off, abruptly. I say that we are in the business of trying to use our expertise to help make a transition to a sustainable future while keeping the world working. Our analyses help policy makers and businesses understand what is happening and what is possible. It's no surprise that the ingenuity of many engineers is creating options as they are the sort of people who like to solve problems. For anyone who doubts that any in the industry are trying to do something (even if it is often in response to legislative requirements – it is, after all, a business), here is the evidence that we are putting our minds to it.
As well as helping in these endeavours, I am trying to do my personal bit. I have a lot of flying to make up for (see list of conference locations above). I now have an electric car in my driveway as do several of my colleagues and our solar panels are on order. I'm trying to keep my holidays close to home and next time I visit a client or go to a conference, I will be looking for train and boat options. It's a save the planet thing.
Regards
From Kathy's Desk.
Comments and suggestions gratefully received via the usual e-mail addresses or

here
.
You may also use this form to ask to be added to the distribution list so that you are notified via e-mail when new articles are posted.