H/COMET


Web-Based Crude Oil Management Evaluation Tool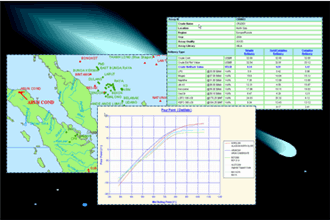 On the web: http://www.hcomet.com
H/COMET is a revolutionary web-based application that can:
View extensive amounts of crude assay data - all from one application

Quickly find crudes with user-defined criteria from a large assay database

Link directly to Chevron's world wide crude assay library

Add your own assay data, with drag-and-drop functionality

Display assay reports and graphs and use powerful search facilities

Compare crudes side-by-side for any desired qualities

Electronically export assays in Excel or Word format

Re-cut and blend crudes using technology from the world-renowned crude assay management system, H/CAMS

Quickly determine crude or blend economics or any refinery configuration and market using black box LP optimization

Perform easy-to-use crude substitution analysis for quick evaluation of crude values. Concise margin analysis report produced.

Access a huge database of pre-configured refinery models available
Links directly to CIMS
CIMS (Crude Information Management System) - a web based application maintained by PetroTech Intel (PTI) which monitors new field discoveries and quality changes in existing crude grades.
---